Please read and understand these terms before using our services at Essay For All
Essay For All is responsible for delivering your orders within the agreed duration. Thus, if the firm violates any of its Refund Policy Commitments, the client can seek partial or full reimbursement of their payments based on our refund policy
Money-back guarantee policy (Refund Policy)
This policy authorizes our clients to demand reimbursement if our services do not meet their expectations. Essay For All guarantees your satisfaction whenever you request our services. Over the years, this company has grown with a high satisfaction rate of 97 percent. However, human beings are subject to errors. Therefore, if you feel unsatisfied with the delivered task, you can leverage our money-back guarantee policy. Equally important, you need to know that there are only particular circumstances when Essay For All guarantees you a full refund. These include:
Cancellation of the order
Share your Paper Instructions
At Affordable Fee, Plag-Free and Wthin Your Deadline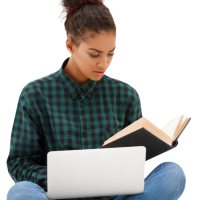 You can place an order with us and have an expert writer allocated to tackle your task. Unfortunately, the client may cancel the order due to various reasons. The refund amount varies from 100 to 75 percent in such a case. The deduction is to cover the company and the writer's attempt to provide you with the required product or services.
Late delivery
Essay For All guarantees timely delivery through our pool of professionals who work around the clock to serve you. However, late delivery can be due to unavoidable circumstances, like if the writer is unwell. If this occurs, our company will refund the agreed amount through mutual deliberations with the client.
Disputed claims
 If a client is unhappy with the delivered task, they can seek a refund to have the order handled by a different tutor. Our company will investigate to understand the case when this happens. Our platform prioritizes customers, and we will do our best to guarantee your satisfaction.
Plagiarized content
At Essay For All, we do not tolerate plagiarism whatsoever. We require a Turnitin report to authenticate plagiarism claims. As a result, there will be no refund if you fail to give a Turnitin report to confirm your claim. However, if you provide a report, our management will assess it and authenticate your refund request.
Accidental duplicate order
In some instances, students can place an order by mistake. You should contact us immediately to clarify the issue if this occurs. Failure to explain this on time would make the order deemed a valid one. Secondly, if billed twice, contact us immediately with both the receipts for us to address the issue and process the full refund for the extra charges.
You cannot get a refund if:
You get a low grade
It would be best to understand that Essay For All does not guarantee high scores. Our products serve as a draft sample only. Our products also act as a reference point for further research. As a result, we do not guarantee high grades because we only provide you with a draft to guide you in writing your final paper
Once you have released a particular portion of the aggregate payment to the writer
After you have released a specific percentage of the total amount to the writer, we believe that that assignment met your needs and you were happy and satisfied with the quality. Therefore, we do not give refunds in such scenarios.
Delayed payment
As a client on the Essay For All platform, you cannot get a refund if you claim late delivery when the reality is that you also delayed the payment. We do not bear the responsibility in such a situation.
Elapse of the refund period
Essay For All allows refund within 180 days after the original transaction data. Thus, we cannot offer you a refund if six months have passed since the transaction date.
Refund processing
After receiving a refund confirmation, Essay For All will process it within 48 hours. Our firm is responsible for your bank transfer charges and transfer delays.