Essay For All has a policy enforcing adherence to ethical laws, Honor Code." This policy outlines our expectations regarding our users and maintaining the quality of academic services we offer. Our services do not promote academic dishonesty in any way. Therefore, to get a detailed understanding of our honor code, read the following;
Essay for all honor code
Our honor code considers cheating as seeking assistance from unauthorized parties for academic assignments
We define imitation as impersonating any student's identity for personal reasons
Duplication implies the use of copied or plagiarized work without any acknowledgment
Equally important, we have no access to our user's bank details and account as well as other transactions undertaken by our third parties like PayPal
Our professional writers do not organize tests, competitions, or tackle your homework that professors use for assessment. Equally important, we do not have any plan to intentionally help our clients to cheat, copy, or engage in any academic malpractice. As a result, any evidence illustrating your intentional association with educational malpractice and dishonesty can result in prompt termination of our services to you. In addition, essayforall.org does not promote corporate disloyalty in any way. These acts of disloyalty include intentionally helping users engage in fraudulent and illegal activities.
Why do we gather information?
Essay For All embraces professionalism in all our dealings. As a result, we may not need your consent. However, we use cookies, which store specific data when accessing our website. You are at liberty to disable the settings from your browser if you wish to do so.
The data we gather from our users
Students
This website explicitly serves students. We understand the difficulties students face while writing their assignments. Despite these difficulties, we do not allow students to violate educational institutions' policies' in any way. Academic integrity remains our core priority. Therefore, we do not allow students to use our platform for unauthorized activities contrary to education policies. Secondly, we discourage students from using academic materials provided by freelancers as a pass-off as their own.
Share your Paper Instructions
At Affordable Fee, Plag-Free and Wthin Your Deadline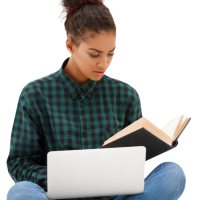 Business
Essay For All neither supports nor facilitates corporate dishonesty or violation of corporate policies. We will never aid users in perpetuating fraud or taking part in any illegal activity. Thus, if we find valid proof that our experts intentionally facilitated any unlawful activity, we immediately expel them from our platform.
Who do we share your information with?
Essay For All collaborates with third parties to give our users impeccable solutions. So, to offer you top-notch services, we might share your information with third parties and vendors to process your requests. We limit sharing your data to our writers and vendors only to offer you an outstanding service.
 Equally important, essayforall.org requires our freelancers to uphold and respect our integrity and a positive reputation built over the years. Accordingly,
We do not allow our writers to be part of any situation that violates academic and corporate norms and principles.
Additionally, we do not promote the act of freelancers supporting business representatives and students to engage in fraudulent activities.
Message to:
Students
We acknowledge the difficulties you go through to write your essays as college or university students. However, such pressure should not make you violate your university's academic integrity policies. Therefore:
Students must not use the essayforall.org website to engage in any form of illegal or dishonest activities contrary to your institution's policies
Students should not take any academic material they have received from freelancers and pass them off as their own
Educational institutions and staff
Essay For All acknowledges your tireless efforts to maintain academic integrity. So, we fully back up your quest to ensure honesty in student work, including in essays, assignments, and dissertations. Therefore, our activities adhere to academic integrity standards and do not violate them.
Freelancers
Essay For All offers you an incredible opportunity as a freelance writer to guide students with your skills and experience to make their academic pursuits rosier. However, as a freelancer working on the essayforall.org platform, the following guidelines bound your actions:
Freelancers should not create or contribute to circumstances that would jeopardize college or corporate policies
You should not help students engage in cheating or fraud
Report violation
Our platform believes in the provision of impeccable solutions to our clients. Equally important, we require our freelance writers to maintain high ethical standards. If you think that our writers agreed to provide unethical help, kindly report it for abuse.
We prohibit the following:
Academic cheating
At Essay For All, we discourage our clients from requesting pre-written or custom academic assignments. In addition, we discourage our writers from impersonating a student's identity for purposes like tackling their exams or online classes
Plagiarism
We strictly condemn the use of other people's work without crediting them
Private and confidential information
As a professional platform, our freelance writers cannot ask for any confidential information from our clients. We do this to maintain the integrity of this website and our strict adherence to data privacy rules.
Unethical activities
At essay for all, we prohibit our freelance writers from engaging in activities that violate legal requirements and corporate policies.