Privacy Policy is a critical aspect of all our dealings with clients on this platform. As a result, we have the following fundamental principles to protect your privacy when you visit, use, or make payments through our website.
At Essay For All, we are mindful of the personal data we ask you to provide and the confidential information we gather about you when you visit our website and other platforms
This site promotes transparency in gathering, using, and sharing your personal information.
Therefore, Essay For All's privacy policy incorporates and clarifies the above fundamental principles.
Who we are and the scope of this privacy policy
Essayforall.org owns and manages this website. Thus, this privacy policy applies to all the information we collect about you when you use:
Our mobile applications
Other products and services available on or through our website
Throughout this privacy notice, we refer to our website essayforall.org and our mobile applications, closely referred to as "website," and the academic writing services provided through our website.
Share your Paper Instructions
At Affordable Fee, Plag-Free and Wthin Your Deadline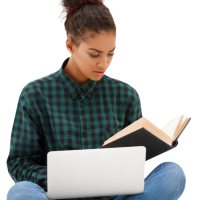 This privacy notice outline how we may use, process, and store your personal information. As a result, we protect your data with strict accuracy. This privacy notice also explains how we collect, use, and share your information and choices concerning that information.
How we receive your information
As a professional website, we may receive your personal information from you or our partners to deliver our legal or contractual information. Additionally, we can acquire your consent through the website or receive your personal information from third parties you have authorized to pass this information to us.
The information we collect about you
At any time you visit our website, we automatically collect the following information about you:
IP addresses
Technical information
Information regarding your interaction with our website
Information about what type of device you used to connect to our website
How we respond to do not track signals
At essayforall.org, we do not respond to Do-Not-Track signals. Your browser settings can automatically permit you to transmit a "Do Not Track" signal to websites and other online services you access. However, there is no consensus on what this means in the industry; thus, we do not respond to such.
Why we collect personal data
Essayforall.org collects information whenever you visit our website for the following reasons.
To allow you access to our website
We also collect personal data to offer you information regarding website updates or changes and the services you can order from us if you are an existing user of our website
To order your services under contract
For legal justifications, such as if you have entered into a contract with us
To provide marketing information regarding our services and products
For payment of the services
Grounds for collecting information from you
We may collect information from you when we have a legal justification for collecting the information. Essay For All can collect your data when you have consented to us for a specific purpose.
The legal basis we have for processing your personal data
We have your permission to do so
You are rendering a service to us
To comply with the legal requirements
Because we have a contract with you
Who might we share your information with?
We can share your confidential and private information with third parties if you have authorized us to do so or for legal reasons. As a result, we can share your personal information with:
Our marketing staff to offer you promotional materials after you have registered on our websites
With third parties because you have consented
Our writers provide you with customized writing services