Are you aware that Clinical Judgment and Decision-Making Assignment help have recently received new interest? Probably, you could be asking why? This is because of their pivotal role in communications, diagnosis, and decision-making. Clinical judgment is central to the medical profession since doctors use it to generate information for scientists and other healthcare managers. Health care professionals make clinical decisions daily. Thus, it is part and parcel of professional nursing care.
As a result, it is imperative for students pursuing health care courses to understand clinical judgment and decision-making in nursing. Health care professionals, such as nurses, make care decisions daily. However, these decisions should be rationally applied based on nursing principles. In addition, clinical judgment and decision-making is an evolving process in which individuals gather, interpret, and evaluate data to use the evidence to formulate a decision.
The significance of clinical judgment and decision-making
Clinical judgment is a fundamental component of professional nursing care. So, students must develop sound judgment and decision-making skills to handle the challenges they will encounter as registered nurses successfully. Secondly, it is essential since it leads to appropriate nursing diagnosis, clinical decision-making, and health promotion. Clinical judgment in nursing requires knowledge and skill accumulation over time.
Consequently, it contributes to the nurses' ability to sympathize and synthesize patient presentations to offer evidence-based interventions. Clinical decision-making in nursing includes conclusions about a patient's health status with a determination to implement the best possible strategy to address their needs. The underlying goal of these measures is to boost patient outcomes through enhanced clinical decision-making. In addition, it ensures that health care personnel use objective evidence when treating patients, especially those in critical conditions.
Share your Paper Instructions
At Affordable Fee, Plag-Free and Wthin Your Deadline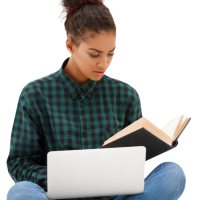 Clinical judgment models
The NCSBN clinical judgment measurement model was developed by NCSBN researchers as a framework for the valid measurement of clinical judgment and decision-making within a standardized and high-stakes examination. Most prelicensure education programs consider clinical judgment and decision-making as critical elements. However, more robust research was required to separate and measure each trait with psychometric rigor.
A clinical judgment example ranges from the monumental decisions whether to discontinue life-support for a patient on dialysis to other banal decisions like whether to hang a telephone call when on hold with nephrology. The underlying consideration is that clinical judgment is the accumulation of knowledge and skills over time for the nurses to analyze and synthesize patient presentations to offer evidence-based nursing interventions to improve patient outcomes. Clinical judgment is developed through:
– Practice
– Experience
– Knowledge
– Continuous critical analysis
It extends into all the medical areas like diagnosis, therapy, communication, and decision-making.
Clinical reasoning definition
Clinical reasoning refers to the process used by OT practitioners to understand clients' occupational needs, make decisions regarding intervention services, and think about what we do. In addition, nurses and other clinicians use clinical reasoning to collect cues, process the information, understand a patient's problem or situation, and plan the treatment process. Equally important, it can be used to implement interventions, evaluate outcomes, and reflect on and gain insights from the process.
As a result, it immensely impacts clinical judgment and decision-making in nursing. It leverages cognitive thinking strategies to collect and analyze clients' information. In the same way, nurses and other clinicians can also use clinical reasoning to ascertain the relevance of information and determine the most appropriate nursing action to boost the client's physiological and psychosocial outcomes. Are you stuck with your clinical judgment and decision-making essays? Essay For All can help you out through our pool of professional writers.
Examples of clinical decision-making in nursing
There are multiple examples of clinical decision-making in nursing. For example, a nurse can use cues to gather and analyze patient data systematically through direct observations. You can also keenly listen to the patient's story and concerns and examine their laboratory results and records. Additionally, you can use decision-making tools and assessment data to make appropriate clinical decisions.
As a result, it enables a nurse to conclude a patient's status and needs with a determination of a method to implement appropriate strategies to improve a patient's condition. Finally, it allows nurses to select relevant patient outcomes and interventions to achieve particular outcomes. For more examples, you can contact us today at Essay For All for excellent solutions for all your clinical judgment and decision-making needs.
Can I get assistance with my clinical judgment and decision-making assignment help?
I know you have struggled with the assignments without a breakthrough to ask for assistance. Anyway, you are not alone. Your fellow students already benefit from our writing services. As you know, most medical and nursing courses challenge most students. Thus, most students sacrifice their sleep to work on these assignments. Unfortunately, they still end up getting low grades.
Obviously, such a scenario would discourage students from sacrificing their time working on their homework, yet their scores remain low. As a result, some of you have tried to look for online writing experts to help you tackle them to salvage your grades, but to no avail. However, you should not be stranded. At Essay For All, we offer customized assignment writing services for students like you. Relieve yourself from any homework-related troubles through our essay writing services.