These Terms Of Use (ToU) govern your access and use of our website and access to our services at Essay For All's. Please read them carefully
Using this website shows that you agree to the terms and conditions stated here. However, these terms of use are subject to modifications from time to time to improve our services as the firm may see fit.
Share your Paper Instructions
At Affordable Fee, Plag-Free and Wthin Your Deadline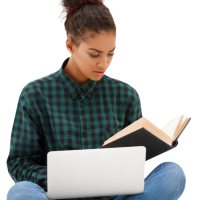 If you do not accept these terms of use, kindly do not use or access this website.
 Definitions
In this case, "website" refers to an aggregate amount of web pages available at Essay For All's and all sub-domains where we offer our services.
As used on our website, the term "service" implies different tasks, such as essays, research papers, dissertations, and other written academic projects and tasks requested by clients.
 "User," "You," or "Client" imply a natural person or a legal entity registered on the website as a user and has accepted these terms. They also mean any individual bidding, executing an order, uploading any information, or transferring payments on our website.
"Order" refers to an electronic request for a paid service from a client for a particular writing service. It outlines the scope of the work and other client requirements regarding the product. An order entails your work together with its requirements.
 Order-placement and registration
Kindly use a valid email address while registering on our website. Accordingly, giving an invalid email address violates our terms of use.

The website does not charge a fee for placing an order

After placing your orders on our website, you can chat with our writers and support team via the chat window on our website. This is necessary in ensuring that our writers get full details before beginning to work on your order. However, you have to pay an upfront deposit for us to start working on your order

At Essay For All, we use a messaging system to facilitate communication between clients and our writers. Therefore, you should regularly check the messages to respond to any query

You can keep in touch with our customer support team to get regular updates on your orders
Order-Payment
To begin working on your order, you must pay an upfront fee to our professional writers at Essay For All's to start working on your order. 

If the order is in the final stage, it will automatically become auto-finished. However, it will auto cancel if it is not yet in the final phase.

If you do not intend to use our services, our firm will withdraw the funds after sending of necessary request. We ensure funds withdrawal to the user's account upon request. We will refund it within 4-6 official days after the order placement.
Order Processing
Each order placed on our website has the required volume determined by the number of pages. One page is equivalent to 375 words. Thus, every delivered task has to match the expected pages. In case of a mismatch, students can ask for free revision

The client may only provide changes to the scope of work if the writer has not started working on the order. 

Clients must specify the distinct requirement of their orders to the writers. 

We encourage communication between a client and the writer using the chat window on our website. You can also reach out to our support team when you need any information or clarification.

The client may track the progress of their order using their accounts since we display order status information. Additionally, you can contact our support to get consistent updates on your order.

Once we proceed to the last stage of an order, cancellation and refund of the last part of the payments may prove impossible.
Order delivery
We at Essay For All's are responsible for delivering your orders within the stipulated timeframes.

The client should ensure that the given emails or other order delivery options should be functional. As a result, we encourage clients to keep in contact with our support to facilitate order delivery

The client is responsible for downloading the delivered task after delivering it.